We've all been there at some point – that terrifying moment when you realize that someone has dropped the ball (or perhaps it was you) and you need to shift into problem-solving gear. You have an event around the corner, but no beautiful, high-quality promotional items for it. Panic ensues. It's a total disaster. Or is it?
Well, it certainly doesn't need to be. Don't believe us? Then here are some of the best products that can be shipped quickly (perfect for your marketing emergency):
Everybody likes a promotional pen – especially one that is sleek and stylish. The great thing about pens is that they are the perfect way to keep your brand top of mind (and in sight of potential
customers or clients). These twist action pens have ample space for branding and come in black with blue, green, red or silver trim, perfectly finished with a stylus on top – perfect for the business person on the go.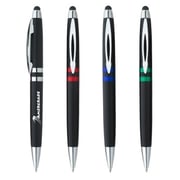 The Economy Full Color Kan-Tastic
These exciting, colorful can or bottle coolers are a great way to ensure that your brand is memorable for your potential clients. Made from ⅛" polyester foam, these coolers are easy to fold and carry in a purse or pocket, but the incredible part is that you get to fully customize them with your own artwork – giving you full control of the look and branding of the promotional item.
You might have heard about these incredibly fun (and useful) items of late – in fact, you're probably hearing about them everywhere. That's why it's a good idea to get in on this trend while it's hot! These spinners are specifically awesome, thanks to the fact that each of the three panels light up with multi-colored LEDs and you can choose from a multitude of base colors. Each panel can be pressed to turn them on or off or to adjust the pulse speed. These handy gadgets are great for eliminating stress, easing anxiety, reducing boarding and helping people to focus. With batteries included and the fact that it's small and portable, it's a great promotional item. And what's more, you'll have potential clients lining up to get their hands on one!
Non-Woven Tote Bag with Accent Trim
Awesome, useful and highly customizable tote bags are always good options when it comes to promotional items, and these particular totes are no exception. Made of non-woven, coated, water-resistant polypropylene, these bags are versatile and easy to clean, and you can choose between black, red, orange, lime, gray or royal blue.
There are few things as useful as a water bottle for busy people – which is why this is such a great promotional product. But with health concerns growing over the daily use of plastic, it's also important to know that this practical product is BPA and lead-free and meets FDA requirements. It's also leak resistant thanks to its "push-pull lid", and the see-through container comes with a lid in either red, blue, black, purple or green.
It goes to show that if there's been a little hiccup when it comes to promotional items, that there are definitely some phenomenal products you can order as a fantastic plan b. But, in reality, you want to do the best you can to avoid having to scramble at the last minute. Get in touch with us at Proforma Durkee to ensure that you have you covered with any advertising specialities and promotional products for your brand with our centralized (and highly customizable) online company store.