Finding the Right Process for Your Employee Uniform Program is Critical
If you're part of a smaller business and you need employee clothing, you should absolutely check out our branded apparel and uniforms catalog.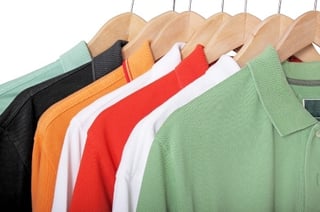 But if you're in a larger company (e.g. multiple locations, hundreds of employees), it will make sense to consider a more formal uniforms "program."
One caveat: not all uniform companies can create effective programs. Here are some important points to keep in mind when deciding on a partner.
1. Repeat after us: price point isn't the only thing to consider. Yes, price point does matter, but it's not the only thing, and it's not necessarily the most important thing when it comes to creating a sustainable uniforms program.
Low prices are great provided the partner has its eyes on other areas where costs can creep in. Below are two issues that can lead to costly mistakes.
Branding inconsistencies. Low-cost uniform suppliers usually can't provide the account management that a larger company needs. For example, making sure that key departments (e.g. operations, finance, AND branding/marketing) sign off on orders is something a seasoned account manager would do, but not something a customer service rep at the local apparel vendor will be equipped to handle. This lack of oversight can lead to expensive errors. Consider this scenario: what happens if operations signs off on a large order of shirts, only to discover—after everything's been shipped—that the colors are "off" because the branding/marketing folks never had any input?
"Big picture" avoidance or ignorance. The big picture matters. When larger organizations with dozens of locations and hundreds, maybe even thousands, of employees need uniforms, it's easy for things to fall through the cracks, especially if there isn't one point person who can look at the big picture while also taking care of all the nitty-gritty details. Not to mention that streamlining processes and reducing redundancies can help save money in the long-term. This can only happen, however, if you work with someone who has a solid understanding of how businesses operate, how employees need to be uniformed, and which apparel suppliers would make the most sense for any given situation.
2. It's always more than "just uniforms." So much more goes into uniform programs than simply the apparel. You have logos and employee names. You might have different apparel for different times of year. You have complementary items (e.g. aprons, bags, business cards).
While working with a vendor that only sells uniforms might make sense for the mom-and-pop pizza shop down the street, larger organizations should work with vendors (or a conduit to vendors, like Proforma Durkee) who can help manage procurement of all essential branding/marketing items. Think employee uniforms, collateral materials, promo items, and everything in between.
3. Creating a successful uniforms program takes experience. Again, a company that simply wants people to pick from an online catalog and place an order probably doesn't have the bandwidth to work one-on-one with a larger organization that needs to address multiple locations, departments, budgets, and so forth.
Working with a vendor that's successfully set up and run uniforms programs makes sense because this person will know what questions to ask (questions you might not have even thought of), where to look for cost savings, ideas to streamline processes, etc. In other words, working with an expert from the get-go is a smart strategy.
4. Knowing when to make the jump to an online store—and setting one up successfully—is another component. Ideally, you want a vendor who can provide the apparel you need, at a price point that's reasonable, and in an efficient way that everyone can understand and easily access. Often, this will involve setting up an online company store.
But guess what? There aren't many vendors who can do all that—provide quality apparel, efficient uniforms programs, helpful service, online stores, and plenty of hand-holding. You probably get where this is leading, right?
At Proforma Durkee, we excel in ALL of the above. We've successfully created dozens of streamlined uniforms programs for our clients. (Psst. Here's what we did for The Cheesecake Factory.)
If you're looking to create a uniforms program, let's chat!