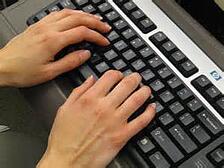 One of the most popular inbound marketing tools is offering a valuable offer to website visitors and capturing the visitor's information using a form.
Getting the prospect's information, specifically the email address, allows the company to continue the conversation with the prospect, leading him or her through the sales funnel until the person successfully converts from lead to customer.
However, before you add forms to your site, there are several things you should keep in mind. Consider these form "best practices," if you will.
1. Visitors don't enjoy filling out long forms. The main exception to this is when they're buying a product at an online store. All customers understand the importance of telling you their address so you can ship a package to them, but even then, they prefer it if the information is stored so they only need to fill it in once.
Accordingly, you should minimize the number of fields you ask any visitors to fill. Set things up so you only need to ask for their name and email address. Any more than this is likely to push people away and reduce your number of leads.
2. Forms should be responsive. Once the user has submitted their information, they should receive some kind of confirmation message telling them that you'll be handling things from there. Visitors who don't see a confirmation may wonder if they successfully completed the process, and this could bias them against you in the future.
At the very least, the person should be redirected to a thank you page AND the person should receive an auto-responder email. These two "touches" are important and provide more opportunities to continue the conversation with the prospect.
3. Forms should lead visitors to something of value. Converting visitors into leads using forms is a good start, but those leads won't continue on to become customers if you don't offer them a reward for the time they spent.
Set up your system so it offers something valuable: a discount coupon they can redeem at any time, an ebook on a relevant subject, or an invitation to a webinar. Again, this is good stuff to put on a thank you page and/or in an auto responder email.
4. Forms should set proper expectations. When people submit their information, you don't need to keep them there, but if there's a next step in the process (for example, if they're requesting a product demo), you should inform the person what those next steps are. If someone will get in touch with them within 24 hours, for example, state that.
5. Forms shouldn't replace other contact methods. Forms are great, but your site should still offer traditional ways of getting in touch: phone, email, snail mail. Learn more about the importance of having a good Contact Us page here. Remember, at all times, visitors should leave your site feeling satisfied.
Proforma Durkee can help you with your website strategy, including how to effectively use forms. Learn more about our digital marketing services.
POST COMMENT BELOW: