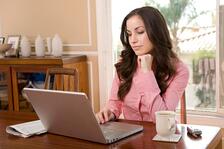 Remember, not all marketing agencies are created equal. So if you're thinking of outsourcing to a marketing agency, you'll want to carefully vet each contender you're considering. Check references, review portfolios, and look at the specific results the agency has gotten for its clients.
All that said, you probably wouldn't be reading this blog post if you weren't considering us...or at least trying to learn more about us.
Thank you! We're so glad you're here, and we look forward to (hopefully) getting to know you. In the meantime, here are eight reasons why you should seriously consider making Proforma Durkee your outsourced marketing agency of choice.
1. We do so much more than just marketing.
We have deep roots in sales as well, not to mention promotional products, apparel programs, linens, video/photography, and printing. This experience allows us to be a true "full service" marketing agency. Yet we don't charge typical full-service agency fees. How is this possible? Check out our next point.
2. When you work with us, you get to leverage our $500 million worth of purchasing power.
Our parent company, Proforma, has spent the last several decades negotiating the best vendor contracts (think everything from promo products to graphic design to everything in between). We leverage this purchasing power on your behalf. You get quality services and products at a fair price.
3. We understand inbound marketing.
Inbound marketing is all the rage, and for good reason. Inbound is all about attracting people who are already looking for your products/services through optimized websites, blog posts, and social conversations. We understand (and practice) the tenets of inbound.
4. But we still believe in the power of traditional marketing.
We've been at this a long time. When it comes to marketing, it's never an either/or scenario. So it's not inbound vs. outbound marketing. Instead, it's about creating the right combination of each for your company's unique needs.
5. Three words: online company stores.
Honestly, one of the biggest things that sets us apart from the competition is that we can build, launch, and help you maintain an online company store that will save you time and money while ensuring brand integrity.
6. We eat, sleep, and breathe creativity.
We're incredibly proud of our immensely talented and creative team--think content creators, designers, account managers, and the like. We love coming up with creative campaigns that WOW and get results (because otherwise, what's the point?).
7. We provide a personal touch...always.
You get the big agency feel, the big agency ideas, but the personal touch at every interaction. We believe that people always come first, that clear communication is critical every step of the way, and that our clients are so much more than simply account numbers.
8. We make marketing fun and effective.
You have to experience this firsthand, so why not pick up the phone or contact us today? Let's chat about your marketing needs. No muss, no fuss, no obligation--just a friendly conversation. It's the best way for you to experience the Proforma Durkee difference.
POST COMMENT BELOW